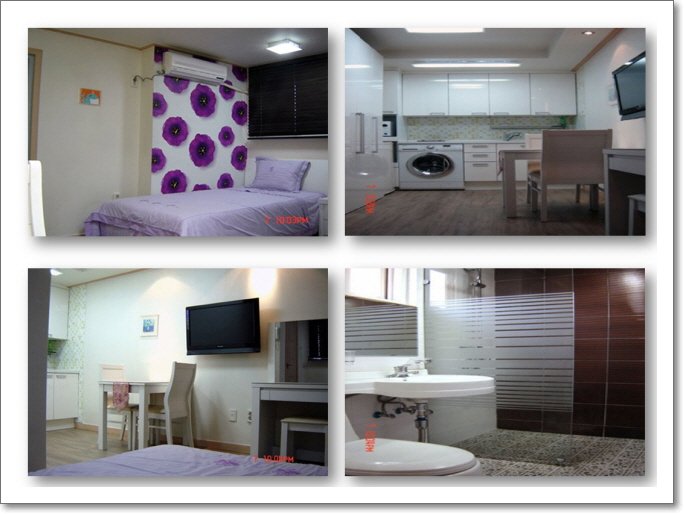 Free Single Studio Apartment
Schools will provide a free single studio apartment (one room plus a small kitchen and bathroom) with basic household furnishings of bed, blanket, pillow, wardrobe, cooking utensils, kitchen table, chairs, two-burner gas hot plate, refrigerator, washing machine, TV, air conditioner, high speed internet and etc.. Couples will be provided with a 2 bedroom apartment.
The composition of furnishings can be different by employer so you need to check with the school for exact items being provided while reviewing contract.
Korean Style Apartment – Villa
The apartments usually come in the form of a high rise apartment or a "Villa". Korean villas are actually three or four story apartment buildings that tend to be quieter than the bigger complexes. The apartments are mostly clean, comfortable and furnished with basic needs. And they are usually located near the schools for easy access/commute.
The bathrooms are almost universally consist of a toilette, sink, medicine cabinet, and a removable shower head. 'Western Style' showers are typically only found in newer apartments. The shower is usually the bathroom area itself – not a bathtub or shower stall with curtains or glass walls. The floor will be angled towards a drainage unit and when the shower is on, you're essentially using the bathroom itself as a showering stall; meaning, when you take a shower your entire bathroom gets soaked. It's nothing to worry about though, the floor is completely waterproof and tiled from top to bottom so getting the walls, floor and even the sealing wet is perfectly fine! You'll even see the benefits to how quickly you are able to clean the bathroom!
Utilities and Hanging Rack, Oven, Coffee Maker, Trash Bag
Teachers will pay for the monthly utilities (electricity, gas, water, internet) and the bills usually amount to about ₩100,000 – ₩200,000 ($90 – $180).
Koreans do not use dryers, so you must hang your clothes to dry near a window (there will be a drying rack that hangs down from the ceiling) or you can set up a clothesline in your bathroom, or get a hanging rack to effectively dry your items, especially during the humid summers.
Most of apartments that teachers live in do not have an oven to bake in. If this is something that is important to you, we highly recommend purchasing a toaster oven through.
Coffee makers will not be provided but you can find them for a relatively cheap price at stores like emart or HomePlus.
The Korean trash disposal system is incredibly particular, and it is very important that you abide by it. You will need to purchase particular government trash bags to use, which are usually found at convenience stores (this is how people pay for trash disposal). Often there are video cameras with surveillance as to who is disposing what and where, so make sure to do your best here.